What Is Battle Garegga?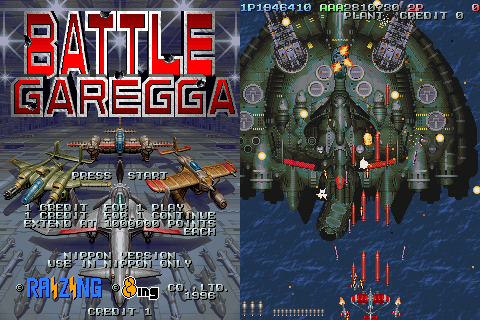 In 1996, a vertical scrolling shoot 'em up game launched in Japanese arcades. Its finely detailed, gritty pixel art graphics, extremely challenging difficulty, and Detroit techno-influenced soundtrack by Namiki Manabu caught the attention of players throughout the country. When video game magazines featured high scores from the game for the first time, readers were shocked to see no one had actually succeeded in beating the game. The ruthless level of difficulty became legendary among gamers at the time.

Eventually, players discovered that as they proceed, they are assigned a dynamic "Rank" based on their skill. The better they play, the more difficult the game becomes. Bit by bit, the exact details of the game's system were uncovered, passed along among hardcore players through word of mouth at arcades. Thus began a fierce battle to figure out a strategy to clear the game, and a battle to achieve high scores that continues to this day.

Its intense showers of bullets also became one of the inspirations for the "bullet hell" genre of shmups. Because of its strong impact on players and the industry, Battle Garegga is thought of as a masterpiece title that greatly altered the shoot 'em up genre forever. However, with only a single port being made for the Japanese Sega Saturn, Battle Garegga has long been a rare and collectable title, out of reach for most modern gamers... Until now!
The Next Generation:
Battle Garegga Rev.2016
At M2, we found it a shame for so many people to miss out on the groundbreaking gameplay, awesome soundtrack, and the experience of playing a piece of gaming history, due to both its rarity and difficulty. So besides offering an authentic arcade experience, we also have supplied a wealth of options: Everything from "training wheels" for new players to helpful hints that even hardcore players will appreciate.
Check out the features page for more details on the Rev.2016 version!

| | |
| --- | --- |
| Title | Battle Garegga Rev.2016 |
| Release Date | Oct.06 2017 |
| Price | $34.99 (Store) |
| Platform | PlayStation®4 |
| Genre | Shoot 'em up |
| ESRB Rating | E |
| Number of Players | 1~2 Players |