Archive Room (3)
Visual Gallery
In the Visual Gallery, you can browse through a collection of artwork from the game.
Press the

button to switch to Viewer Mode which allows you to freely zoom in and out.

Sound Gallery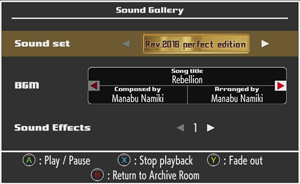 You can listen to BGM and sound effects in the Sound Gallery.
Battle History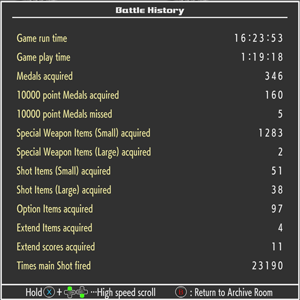 Battle History allows you to browse detailed records of what has occured in your gameplay so far.
Battle History Eligibility
The following are not eligible for recording data in Battle History.
Gameplay after a continue.
Gameplay after using a Quick Load.
Playing during viewing a replay.
Staff Credits
Here you can view the credits for Battle Garegga 2016.
You can scroll up and down using the directional buttons.