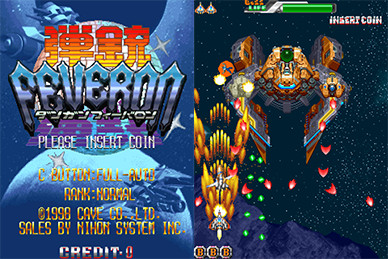 In 1998, a super groovy shoot 'em up came crashing down into arcades like a meteor. CAVE, the pioneers of the bullet-hell genre, presented fans with this high speed vertical scrolling shmup.
Its refreshingly simple gameplay focuses on the core shmup concepts of "Shoot" "Dodge" and "Score." Plus, the wacky disco themes including a funky soundtrack, glitzy mirrorball, and explosive dancing Bombers will pull fans into its psychedelic world.
Now, in 2018, to mark its 20th anniversary, Dangun Feveron is back and available on home consoles for the first time ever!


These useful gadgets will help you check your score for each stage, bosses' remaining Stamina, difficulty, and other useful details at any time. Plus, dancing Cyborgs and a flashy mirrorball help add to the funky mood! These M2 Gadgets are out of this world!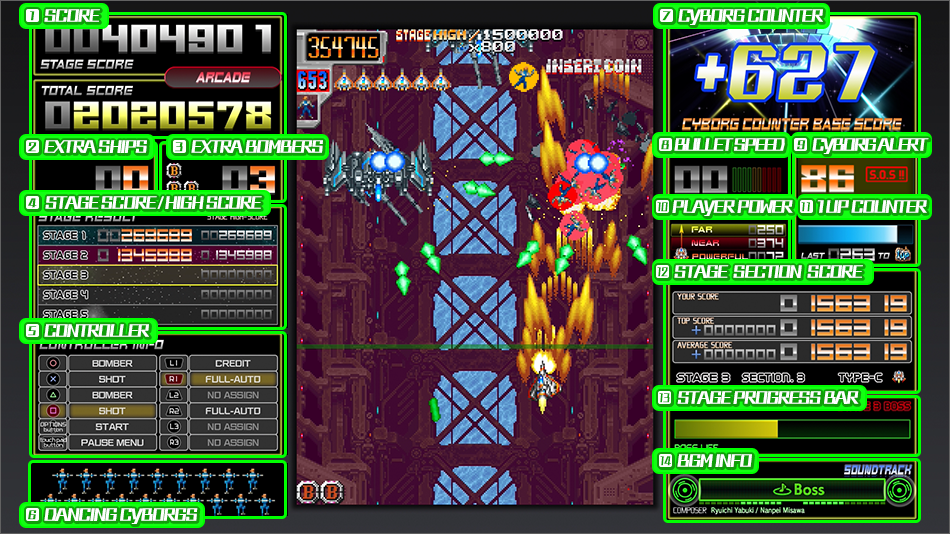 1. Score

Displays the score for the current stage, and the total score.
In the original game, the total score could only be viewed upon completing a stage, so this is a useful tool.

2. Extra Ships

Displays the Player's remaining Ships.

3. Extra Bombers

Displays the Player's remaining stock of Bomber items.

4. Stage Score / High Score

Displays the current score and high score for each stage.

5. Controller

View the controller settings as well as the Player's button inputs. You can confirm the ON / OFF settings for each button in real time.

6. Dancing Cyborgs

The Cyborgs will dance for you!?

7. Cyborg Counter

Displays the SOS System score.
Keep an eye on the mirrorball the higher it goes!

8. Bullet Speed

Displays the current fastest bullet speed.

9. Cyborg Alert

Counts down the time until a Cyborg falls off the top of the screen. If the time gets low, an SOS will go off.
If you lose a Cyborg, the bullet speed will increase, so make sure to save them!

10. Player Power

Displays the Player's current attack power.


11. 1Up Counter

Shows the number of Cyborgs needed to recieve an Extend. You actually can't get an Extend from your score!

12. Stage Section Score

Each Stage is divided into 3 sections, and your score is displayed separately for each one.
This seems to have some relation to FEVER Mode too...!

13. Stage Progress Bar

Displays your progress through each Stage.

14. BGM Info

Displays information about the current BGM track such as the song name and composer.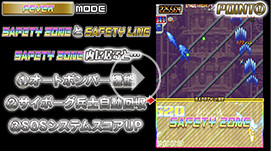 ARCADE
A perfect recreation of the arcade version!
Everything from the wacky hidden characters to the highly speculated Max Energy "bug or feature?" true boss battle.
SUPER EASY
The popular Super Easy Mode we introduced in Battle Garegga is back on stage!
Everyone from dancers who just couldn't get far enough to get their groove on back in the day to total first timers can enjoy the dance fever.
FEVER
An exclusive remixed version from M2.
Easy to play, but will also get players competing for high scores fired up! Can you dig our new Feveron?
Just what does

F

E

V

E

R

mean...?

Get down to 4 different soundtracks!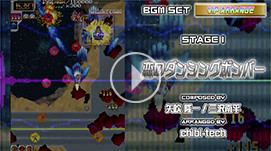 ARCADE
The original BGM from the arcade version.
SOUNDTRACK
The BGM as taken from the Dangun Feveron Soundtrack. It features stereo sound, and other small adjustments.
FM ARRANGE
A FM remixed soundtrack from Tatsuhiko Kasuga.
You can't help but grin when hearing those familiar tones and bass!
VIP ARRANGE
A remixed soundtrack from chibi-tech.
V • I • P!


Besides the basics like difficulty and button configuration, there's an abundance of options, as you can expect from M2. We have settings for Rank gain, vertical screen mode, scan lines, and more.
The hidden character Uotaro can even been used without needing any complex inputs.

Your high scores can be entered in the Online Ranking, sorted by Mode and Ship. Compete with Players from all around the world!
You can also upload and download Replays of legendary battles. Find the hint to victory from master Players!