How to Play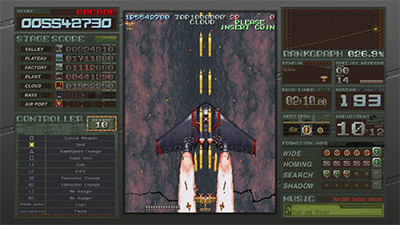 Using the directional buttons,

button,

button, and

button, take control of your ship to take down the enemy.
If you destroy the boss waiting a the end of the stage, you have cleared the stage.
If you clear all 7 stages, you can view the ending.
If you lose all of your stock of extra ships, you will get a game over.
The default settings and difficulty are from the arcade version of Battle Garegga.
For first time players,
we recommend Super Easy mode
.
You can view how to change the game mode
here.
Controls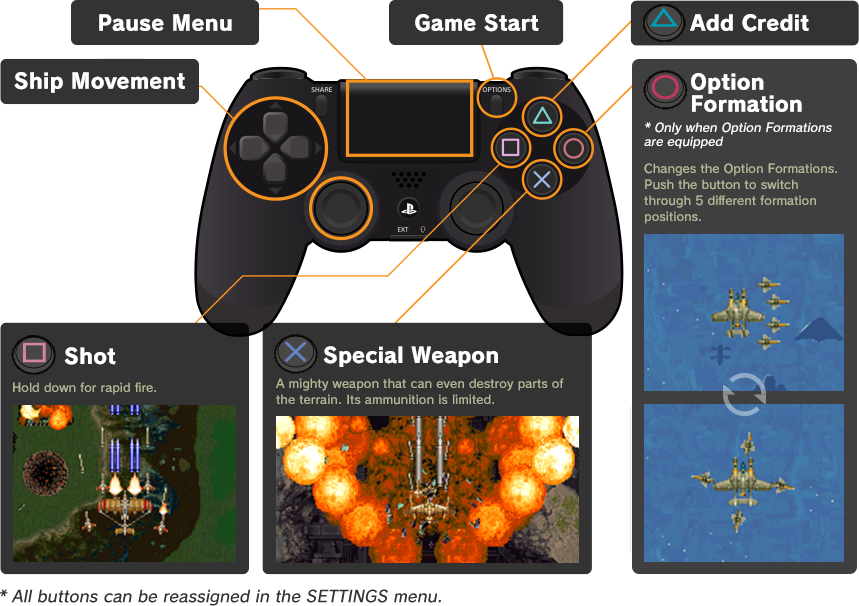 Game Screen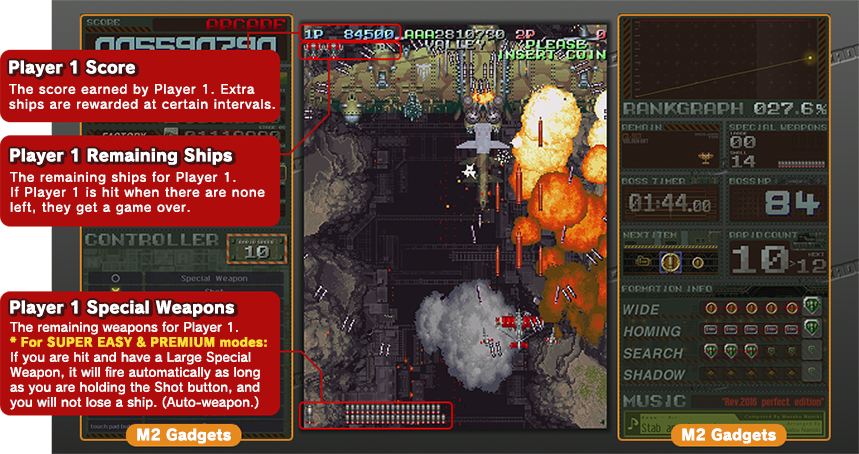 M2 Gadgets
On the left and right sides of the screen, various information is displayed to support your gameplay.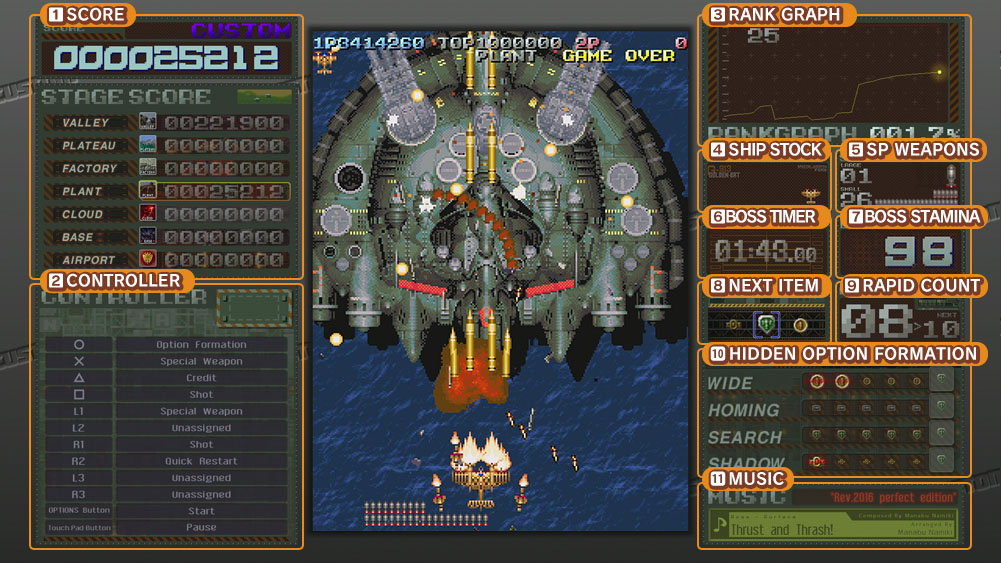 1. Score
Shows your current score, listed by stage.
2. Controller
Displays your current controller settings, including Rapid Speed.
3. Rank Graph
Displays the difficulty Rank that changes based on your gameplay.
4. Remaining Ship Stock
Displays your remaining ships.
5. Special Weapons
Displays the amount of of Special Weapons the player has.
6. Boss Timer
Counts down the remaining time for battling bosses and certain enemies.
7. Boss Stamina
Displays the remaining stamina of bosses and certain enemies.
8. Next Item
Displays the next item to be dropped by an enemy.
9. Rapid Count
Shows the current rapid fire speed.
10. Hidden Option Formation
By missing certain items before getting an Option item, you can get a Hidden Option Formation. This gadget displays your progress towards getting it.

11. Music
Lists the current song's title and version. (Original, Rev.2016 perfect edition, etc.)
Powerup Items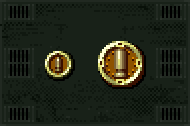 Shot Items
The more you collect, the more your Shot Level raises, and the stronger your attack power becomes.
Collect the Small Shot items in certain amounts depending on your Shot Level, or get a Large Item to raise your Shot Level by 1.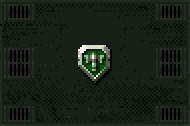 Option Items
Equips up to four invincible helper aircrafts which can be arranged in different formations.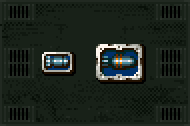 Special Weapon Items
Restocks your Special Weapons. (It takes 40 Small Special Weapon Items to make 1 Large Special Weapon Item.)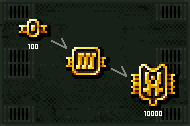 Bonus Items
If you manage to grab one before it falls off the screen, you can aquire from 100 to 10,000 points. Considering that 1 million points will earn you an Extend, these are vital to collect.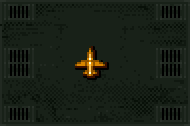 Extend Item
This item earns you one extra ship, also known as an Extend. They normally don't show up, but it's said a certain large bomber is hoarding one.
Player Ships
The Garegga Series (Codename "Code G") were developed as the next cheif airfighters for the Federation. They were the first and last masterpieces created by the Wayne brothers. Depending on the button you use to select them, you can vary the ships' colorings and abilities.(Ship variation details).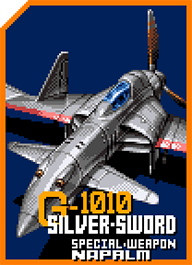 G-1010 FIGHTER AIRCRAFT


Silver Sword

This ship offers a balance between maneuverability and offensive strength. It's equipped with 4 18mm autocannons. All of the 4 crafts in the G Series each have an additional 4 variations. For the G-1010, alternate versions are the Cannon-Ball, Masamune, and Shatter-Star.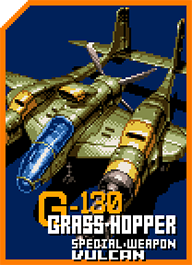 G-130 AIR-TO-GROUND INTERCEPTOR


Grass-Hopper

Developed as an anti-ground unit, it is equipped with 2 14mm rotating machineguns. The variations are Reinforcer, DGR October, and Diving Fox.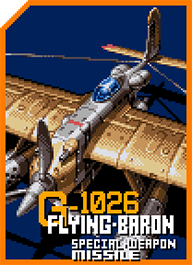 G-1026 LIGHT CARRIER-BASED FIGHTER AIRCRAFT


Flying-Baron

While only equipped with a mere 2 16mm machine guns, its mobility is top of the line. Stormy-Omen, Red-Impuse, and Black-Zeppelin are its variations.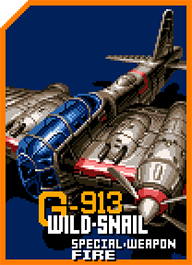 G-913 HEAVY CARRIER-BASED TORPEDO BOMBER


Wild-Snail

This heavy bomber is equipped with 4 30mm machine guns on its surface. However, it's frame is incomplete. Iron-Mackerel, Rust-Champion, and Golden-Bat variations are availble. It appears that Golden-Bat is by far the most maneuverable.
Hidden Player Ships
Under the Other Settings menu, turn on "Hidden character display" to be able to select characters from Sorcer Striker.
* The secret command to unlock them on the title screen cannot be used.

GAIN THE WARRIOR


VALHALLYZER

CHITTA THE MAGICIAN


GUN-DALF

THE SAMURAI-DRAGON


MIYAMOTO

BORNNAM THE NECROMANCER


GOLGODIAN
Character Select Button Performance Changes
| Character Select Button | Performance Changes |
| --- | --- |
| Shot Button | Normal |
| Special Weapon Button | Slightly faster |
| Option Formation Button | Hitbox is slightly smaller |
| Shot + Special Weapon + Option Formation | Slightly faster + hitbox is slightly smaller |
* Buttons listed are the default settings.