Pause Menu (Touchpad button)
Open the Pause Menu with the Touchpad Button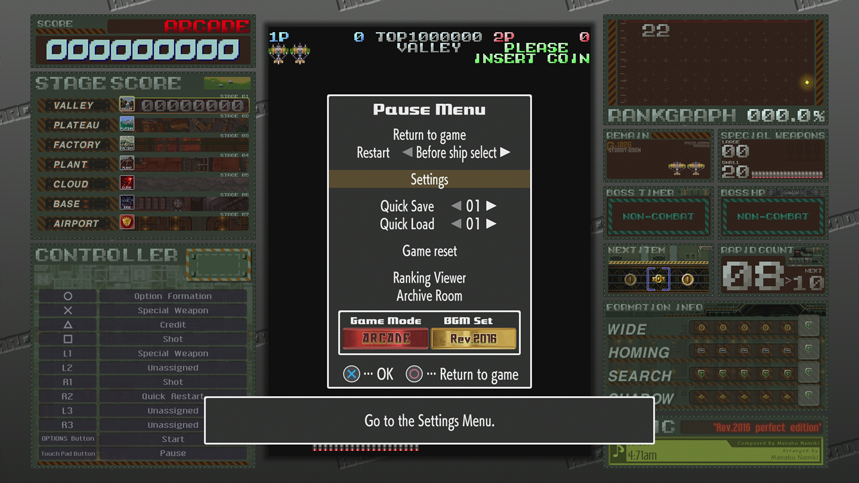 Return to game
Press the

button to unpause.
(Pushing the

button will unpause no matter where the cursor is.)
Restart: Restart Location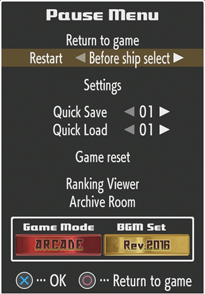 Chose where to restart with the left and right analog stick or directional buttons and confirm with the

button.
Before ship select
Restart at the ship selection screen.
After ship select
Restart immediately after the ship selection screen.
After Quick Load
Restart at your Quick Load location. (Becomes selectable after you use the Quick Load feature.)


* After using the Quick Load feature, only "After Quick Load" may be selected.
Quick Save / Quick Load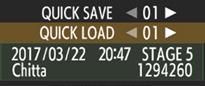 You can save and load your position within the game.
It's useful to save before a tricky boss, and you can load as many times you want to practice, and more.
Select the save slot with the directional buttons or left analog stick.
You can save 30 save slots per game mode (a total of 120.)
Place your cursor on a Quick Save slot to display its details.
You can only select Quick Save during gameplay.
(From the beginning of Stage 1 to before the game over screen, or before the ending.)
Game Reset
Discards the current game in progress. Select with the

button, and a confirmation screen will be displayed. To reset and lose your progress, hold down the

button and the game will be reset.