Settings 2
Controllers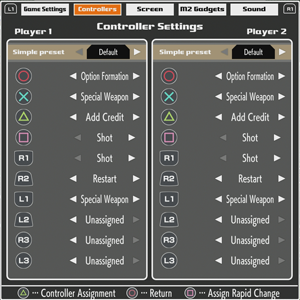 Customize the settings for your controllers.
You can assign functions to each button on the Controller Settings screen.
For players who don't want to spend time making their own settings for each button, you can select a SIMPLE PRESET.
Simple Presets

| | |
| --- | --- |
| Default | A preset for the DUALSHOCK®4. |
| Arcade Controller 1 | A preset for a joystick with a touchpad button. |
| Arcade Controller 2 | A preset for a joystick without a touchpad button. |
Rapid Change Settings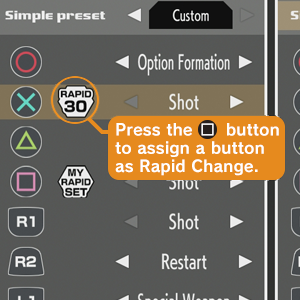 Rapid Change can be assigned to the Shot, Special Weapon, and Option Formation functions only.


button: Press it to change the rapid fire speed. It will change in the following order:

The function of
a button assigned as Rapid Change in Battle Garegga Rev.2016 is different from a normal fire button. When one of the above speeds is assigned to a button, press it for a moment during gameplay to raise your rapid fire speed manually.
To do a rapid fire shot, simply hold down the normal Shot button.
If you hold down a button assigned as Rapid Change in Super Easy Mode, Premium Mode, or Custom Mode the Auto Weapon may not fire. Hold down the oridinary Shot button without Rapid Change assigned instead.
My Rapid Set
A button assigned with this setting can make the rapid fire speed changed during gameplay.
This feature was designed based on certain arcade cabinets which have dials for changing the rapid fire speed.
If you press the Rapid Speed button during gameplay, the function assigned as My Rapid Set will change its rapid fire speed.
* If a button is assigned as My Rapid Set, a button must also be set as Rapid Speed.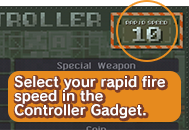 Cautions When Using Rapid Fire
For Premium Mode and Super Easy Mode:
Because your ship's shot speed is fixed at 15 per second, the rapid fire speed cannot be changed.
(This also applies to Custom mode if the in-game rapid fire speed is set to "15 per sec".)

Rapid Change button
If you assign a button as Rapid Change and hold it down during gameplay, the game may detect a higher shot rate than the Rapid Count setting.
It is intended to only be pressed quickly to control the Rapid Count gadget to increase your rapid fire speed.
If you hold down a button assigned as Rapid Change for a long time while playing, the game may detect a higher rapid fire speed than you selected.
* The Rapid Count gadget effects the rapid fire speed of the Shot button that is not assigned as Rapid Fire.
Controller Assignment
Press the

button and the Controller Assignment screen is displayed.
This is useful if you have more than two controllers connected or if you want to play on the 2P side.
Using the desired controller, press left for the 1P side and right for the 2P side.
* If you are using multiple controllers or assigned a controller to the 2P side, the settings will be reset when the game is rebooted. You need to reassign them when rebooting the game.
(If you play with controller in the first slot on the 1P side, there is no need to reassign it.)
Screen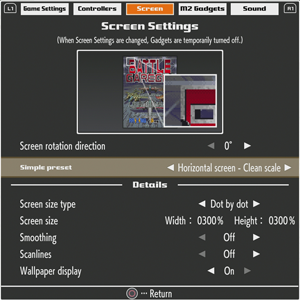 Here you can adjust the Screen Settings.
You can quickly change the settings using a Simple Preset. If you change the screen settings, the M2 gadgets will be disabled and need to be reset.
M2 Gadgets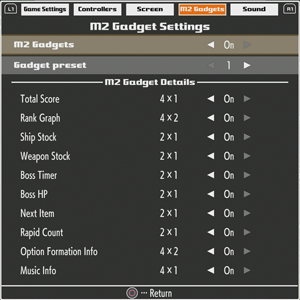 You can choose from 4 types of M2 Gadgets.
They can be turned on and off individually.
Sound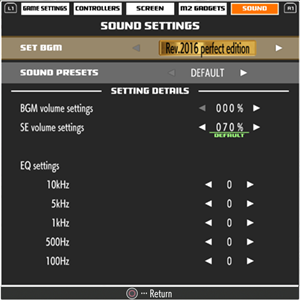 This is where you can change the Sound Settings.
Convenient Sound Presets are available, or you can configure the individual settings.