Ranking Viewer
In the Ranking Viewer, you can browse the online ranking under "All Ranking" or your own system's ranking under "Local Ranking".
You can switch between these views with the

and

buttons. (How to register ranking.)
All Ranking
You must first select which mode of gameplay to browse the rankings of.
Once the ranking is displayed, you can apply filters to view the ranking of each ship.
Use the up and down buttons to select a score, and press the

button to display a detail window.
Select a score with a replay icon and push the

button to download the replay data.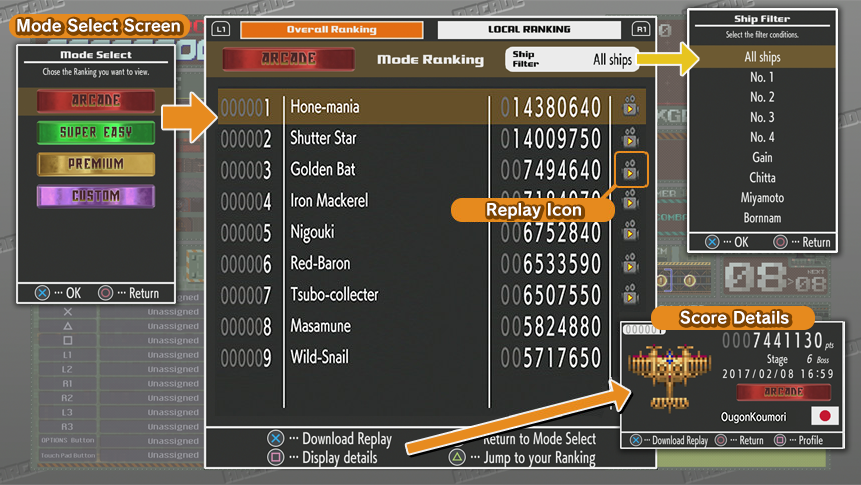 Local Ranking
Just like the Network Ranking, the Local Ranking also saves information for the top 10 scores. Select with the up and down buttons, and use the

button to display a window with the details.
To view a replay, select it with the directional buttons and push the

button. (About the Replay Viewing Screen.)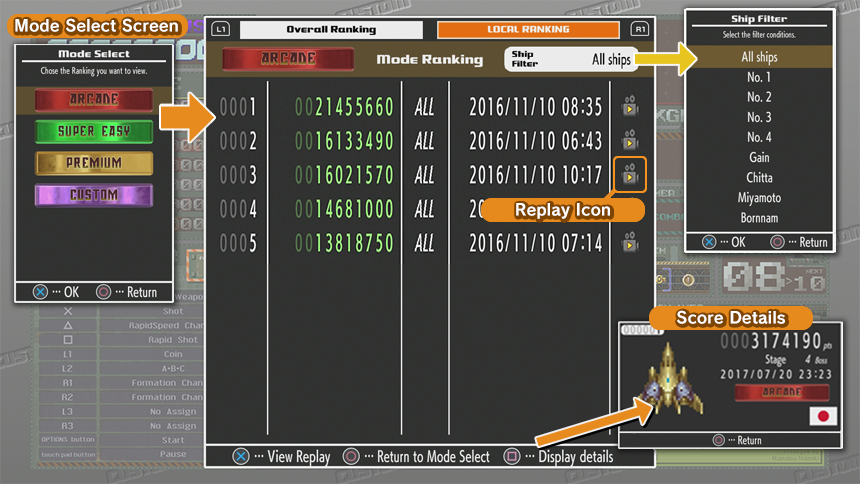 Ranking Registration
All modes register ranking and replay data automatically.
The online ranking uses your highest local score (all modes, all ships.)
The "All ships" online ranking will register your single highest score of all ships.
In any mode, if any of the following occurs during gameplay, the play is invalid for ranking.
(A dialog will warn you when any of the following occur.)
2 player simultaneous play
A single player is playing on the 2P side.
A continue is used after a game over.
Quick Load is used.
Replay Theater is opened during gameplay.
Registering Replay Data in Ranking
The replay data is registered for the top 100 for each mode for "All ships" and the top 10 for each individual ship. If a ranking falls out of that range, its replay data will be deleted.